"The next generation would be justified in looking back at us and asking what were you thinking? Couldn't you hear what the scientists were saying? Couldn't you hear what Mother Nature was screaming at you?"
– Former Vice President Al Gore
---
This is a Wakeup Call
We no longer have the luxury of ignoring climate change
"What's really breathtaking is how ill-prepared we are for such changes." – Bill McKibben, "This is How Human Extinction Could Play Out," Rolling Stone
There isn't much time left. The Intergovernmental Panel on Climate Change (IPCC) has stated that the "planet has only until 2030 to stem catastrophic climate change." Most countries are experiencing extreme drought, wildfires, floods and biodiversity loss around the world. We must act with constructive outrage now.
In Climate Abandoned: We're on The Endangered Species List, scientists and environmental experts discuss the hard truths, causes and consequences of the climate crisis' interconnected issues. They shed light on the greenhouse effect, declining biodiversity, our warming oceans, ideology vs. science, and other urgent topics.
At the end of each chapter, you'll find practical tips for what you can keep doing, stop doing, and start doing to make better choices for the future. Let us move ourselves off the Endangered Species list.
There is no time to waste. Read Climate Abandoned. Learn what actions you can take, and do your part to protect our environment. You are a member of the pivotal generation.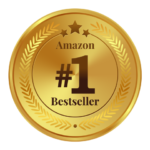 ---
"With glaciers melting, seas rising, and 17 of the 18 hottest years on record already in the books this century, we know we must act boldly to solve the climate crisis – and we know that we have the solutions at hand.
Climate Abandoned explores the concrete causes of the climate crisis, the impacts we're already feeling, and the growing movement calling for solutions. Jill brings together much-needed, unique perspectives of educators, scientists, millennials, faith leaders and more in this global call to action."
-Ken Berlin, President and CEO of The Climate Reality Project
"The diverse, thoughtful voices in Climate Abandoned are urgently calling readers to step off the sidelines and act now for a just, sustainable future for generations to come. This book captures passion."
— John de Graaf, author of Affluenza: The All-Consuming Epidemic, filmmaker, and environmentalist
"California is on the forefront of the climate crisis. Climate change has disrupted our once normal fire season and the state's new abnormal is frightening. Thank you, Jill, for pushing forward and speaking out on what is an urgent and irreversible global crisis."
— Senator Bill Monning, California State Senate – District 17, California Air Resources Board Member
"The greatest threat to our planet is the belief that someone else will save it. Since the survival of humankind depends on awareness and action on climate change, Climate Abandoned is must read for everyone concerned about these issues."
—  Robert Swan, Founder of the 2041 Foundation and the first person to walk to the South and North Poles
---
Contributing Authors
Cathy Cowan Becker • Luis Camargo • Jill Cody • Kasper Eplov • Solange Marquez Espinoza • Bob Hallahan • Peter M.J. Hess • G. Elizabeth Kretchmer • Annamaria Lehoczky • Cindy Martinez • William McPherson • Robert Mullins • Mike Newland • Hari Krishna Nibanupudi • Richard Nolthenius • Julie Packard • Rituraj Phukan • Kevin Quinn • Lois Robin • Betsy Rosenberg • Maria Santiago Valentin • Jigar Shah • Brij Singh • Mathieu Thuillier • www.climateabandoned.com •                    www.jillcodyauthor.com
---
"Climate change is one of the great dangers we face, and it's one we can prevent if we act now. By denying the evidence for climate change, and pulling out of the Paris Climate Agreement, Donald Trump will cause avoidable environmental damage to our beautiful planet, endangering the natural world, for us and our children."
---
Professor Stephen Hawking,  BBC interview, July 2, 2017 – Watch the video: https://www.bbc.com/news/science-environment-40461726
---
Climate Abandoned is the series' second book. Jill's first book, America Abandoned: The Secret Velvet Coup That Cost Us Our Democracy recently won a prestigious, international award … The 2017 New Generation Indie Book Finalist Award in the "Current Events/Social Change" category! Them subsequently, her book also won a second award, "The 2017 Best Book Finalist Award." These awards acknowledge, as a political scientist, Jill's passion for her country, her eye-poping research, and specific intent for the public to understand what has happened to America.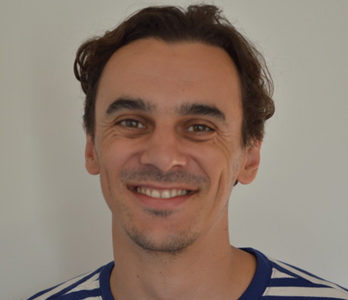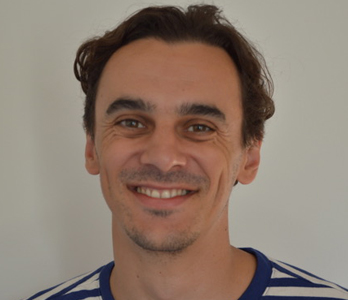 Climate Crisis & Greenhouse Effect: Mathieu Thuillier has a masters degree in political science from Lille (France) and is a specialist of environmental policies and nuclear energy. He studied journalism at the Sorbonne, Paris, before working as a newspaper and
and wherever fine books are sold.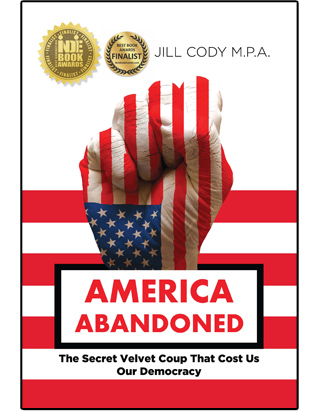 America Abandoned
Available Now On Amazon
An Amazon Hot New Release! This may be the most important presidential election in America's history.
America Abandoned explains what happened and how the corporations and billionaires took over America. Our democracy has been stolen. Greedy, dishonorable thieves stole it while we trusted them and they abandoned us. A powerful moment in our lives happens when we first realize we have lost something, especially something of great value. We are stunned. We feel empty inside.
We feel betrayed. We want it back. When we realize our loss, we hope to remedy it, to get that thing back, and only then will we take immediate action to make that happen. Absence really does make the heart grow fonder, as the old cliché says; sometimes we have to lose something before we can understand its value. We've lost our democracy. Want to get it back?