Environmental Protection Agency Administrator Scott Pruitt attends a Cabinet meeting in the White House on June 12. (Andrew Harnik/AP)
The Environmental Protection Agency has given notice to dozens of scientists that they will not be renewed in their roles in advising the agency, continuing a scientific shake-up that has already triggered resignations and charges from some researchers that the administration is politicizing the agency.
Members of the EPA's Board of Scientific Counselors (BOSC) whose terms end in August will not see them renewed, according to an email sent to members and obtained by The Washington Post, though they can reapply for their posts. Moreover, five meetings of subcommittees of the board, planned for the late summer and the fall, will now be canceled because of lack of membership. They will be held once the board is reconstituted, according to EPA officials.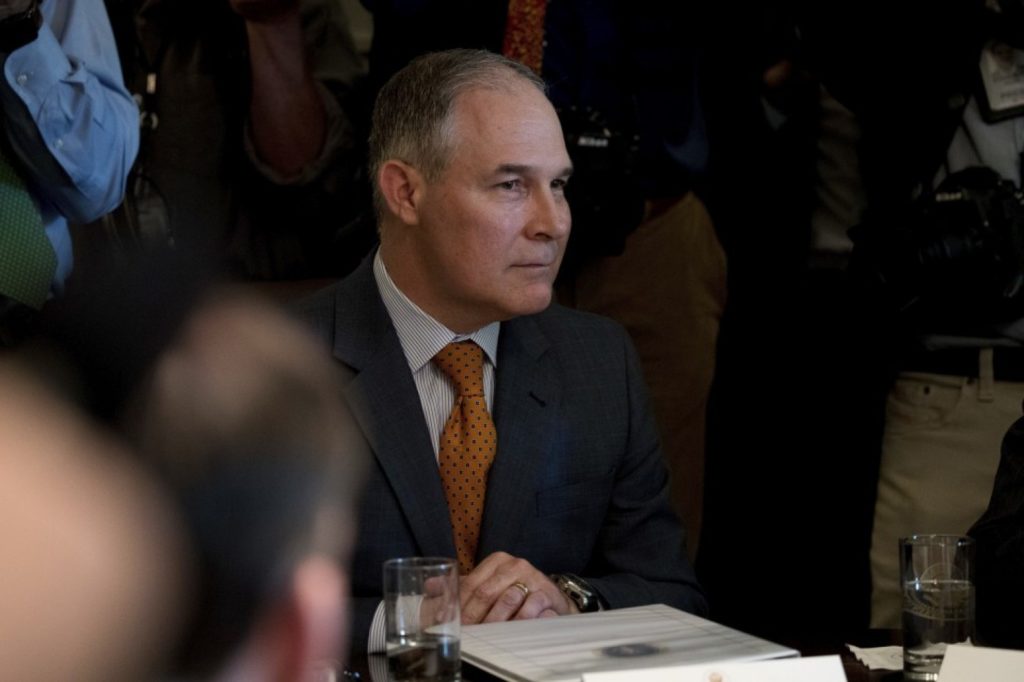 "It effectively wipes out the BOSC and leaves it free for a complete reappointment," said Deborah Swackhamer, the current chair of the board's executive committee and an emeritus professor of environmental health sciences at the University of Minnesota.
That executive committee has only five remaining members, after a number of members whose terms were up earlier this year were not renewed. The board also has five subcommittees, but according to an email from Swackhamer, "with the latest information from EPA, 38 of the 49 remaining subcommittee members will not be renewed at the end of August."
EPA officials said the fact that many advisers' terms were ending provided an opportunity to reach out to a broad array of applicants and draw on their expertise.
"EPA is grateful for the service of all BOSC members, past and present, and has encouraged those with expiring terms to reapply," said agency spokeswoman Amy Graham. "We are taking an inclusive approach to filling future BOSC appointments and welcome all applicants from all relevant scientific and technical fields."
The announcement, sent from acting assistant administrator of the Office of Research and Development Robert Kavlock, said that members can reapply but have a June 30 deadline to do so.
Members are appointed to three-year terms, but they are traditionally renewed for another term if they choose to continue serving. Officials in the previous administration had told several advisers they should expect to serve longer than one term, but that is not dictated under board rules.
"To be renewed for a second term is usually anticipated, expected, and the only time you might not serve a second term is if your expertise was no longer needed," Swackhamer said.
The EPA's Board of Scientific Counselors advises the agency's Office of Research and Development, which is being targeted for extremely deep budget cuts, on whether the research it does has sufficient rigor and integrity and addresses important scientific questions.
Peter Meyer, an economist with the E.P. Systems Group who had already resigned publicly from the board's sustainable and healthy communities subcommittee to protest the ongoing shake-up, said that he and his colleagues had thought they would be staying on.