More than a decade after releasing the groundbreaking climate change documentary, An Inconvenient Truth, former U.S. vice president Al Gore has done it again.
The politician-turned climate activist debuted his new movie, An Inconvenient Sequel: Truth to Power, in Silicon Valley last month — a film that follows Gore around the world as he continues his decades-long fight to create a more sustainable future for the planet.
While its Oscar-winning predecessor focused primarily on eye-opening chart graphs and statistics (and is credited with helping to mobilize a generation of climate activists), reviewers of this brand new-follow up say it is a far more personal and emotional film. An Inconvenient Sequel depicts the dire consequence of global warming, but it also sends a message of hope: Human ingenuity can prevail because it must.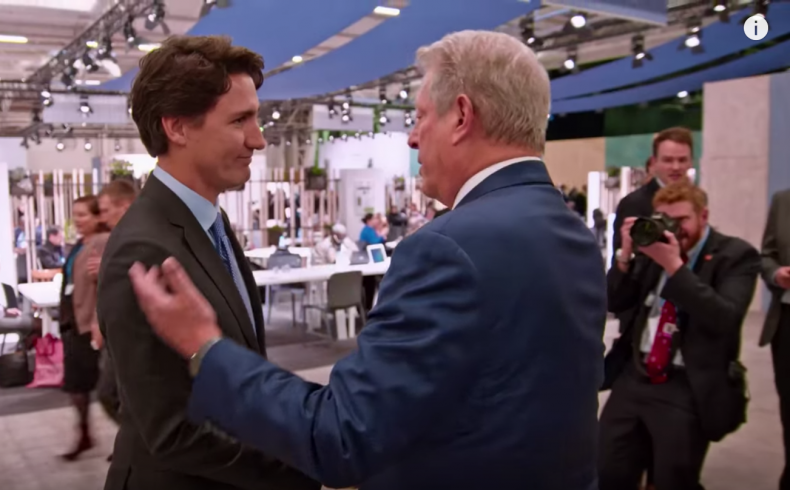 Al Gore meets Canadian Prime Minister Justin Trudeau at the 2015 COP21 climate conference in Paris. Screenshot from trailer for An Inconvenient Sequel: Truth to Power
The 99-minute documentary takes viewers on a simultaneously stunning and horrifying visual journey through drowning cities, dried up villages, and homes torn apart by hurricanes. It takes them behind the scenes of the COP21 climate conference in Paris, where world leaders made an unprecedented commitment to keep global warming below two degrees this century, and into rooms with some of the leaders and innovators spawning clean energy revolutions around the the world (expect at least a cameo appearance from Prime Minister Justin Trudeau!)
But it also paints a picture of climate action in the context of a U.S. president that has vowed to dismantle the Environmental Protection Agency and unravel American clean energy climate commitments. The film received a standing ovation at the Sundance Film Festival in January, but its critics say it lacks the focus of Gore's first documentary, and could be perceived as depicting Gore as a lone wolf in the climate change battle.
An Inconvenient Sequel: Truth to Power is scheduled for limited release in theatres on July 28.